How to Recover Deleted Photos from iPad without iTunes or iCloud Backup
Viewing the photos of your loved ones, delights memories and various landscape on your iPad can be fantastic. However, you may lose those beautiful pictures because of some reasons. It might be due to unintentional deletion of the photos from your device, crashing of your device, your iPad might get broken, misplaced or stolen, iOS upgrade and corrupt device which can eventually lead to formatting of device or reset to factory settings.
In whichever ways you lose your photos, it is very difficult and close to impossibility of getting back those pictures again in a normal way. If you apps got deleted, you can download another one, so also online music, etc. However, if you lose the pictures you took 5 years ago, you cannot retake the pictures again and look exactly as you were 5 years ago. It's simply impossible. This might make you feel grieved about your lost favorites and lovely photos.
The question now is "is it possible to recover those lost photos?" if yes then "How?" The bad news is that your photos are gone, but the good news is; you can still recover all your deleted photos from your iPad. When you delete a picture from your device, it is not actually deleted permanently at that moment, the picture is still written temporarily on a specific storage location of your device and can be overwritten.
It is possible to recover your deleted pictures on your iPad with iTunes or iCloud backup if you've make a backup of your files previously. What if you have not make a backup of your pictures and other files before your device got broken, lost or stolen? If iTunes and iCloud were to be the only option of recovery, you would have bid your files eternal goodbye.
It implies that you won't be able to recover your files if you don't have iTunes or iCloud backup peradventure you lost your iPad or broken. As luck would have it, there are now many iPad data recovery tools that you can use to recover your files either you make an iTunes or iCloud backup or not.
Of all iPad data recovery tools that are present on the market, we are going to be discussing how to use iOS data recovery tools in recovering deleted files of data. iOS data recovery is a fast and powerful tool that can recover lost and deleted dataeither directly from iPad or from iTunes or iCloud backup.Itsupports various version of iPhone 5s/5c,iPod touch 5iPad Air/mini 2,and iOS 7.1. It supports the recovery of 19 different types of files with contacts, text messages, call history, multi-media messages, photos, videos, audios, notes,calendar and bookmarks inclusive, etc.
The best software to use to recover your lost files from iTunes backup, iCloud backup, and directly from device is iOS data recovery. The software is powerful, fast and has simple and user friendly interface making it easy to use. You only need several clicks of mouse to get back your deleted photos or deleted files.
This method can only work for you if you still have your device available with. It is advisable to frequently backup your files in advance in case your iPad device got stolen. If you have your iPad device available with you, you can follow the steps below to recover your deleted photos.
Step 1: Installation and communication establishment
Download and install iOS recovery on your PC.
For Mac users, you should download the Mac version.
Run the application. Connect your iPad to your computer using a data USB cable.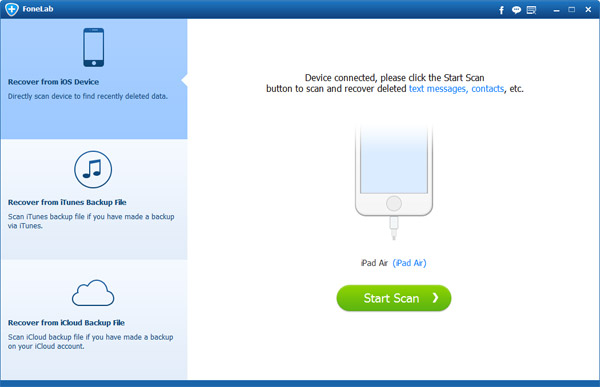 Step 2: Scan your iPad
Choose Recover from an iOS Device, select the Camera Roll option, then the Photo Stream and then select Photo Library. Click on start to start the scanning of your iPad device for deleted files. In case you did not see the photos you want to recover in the search result, you can use the advanced mode – deep scan enabled.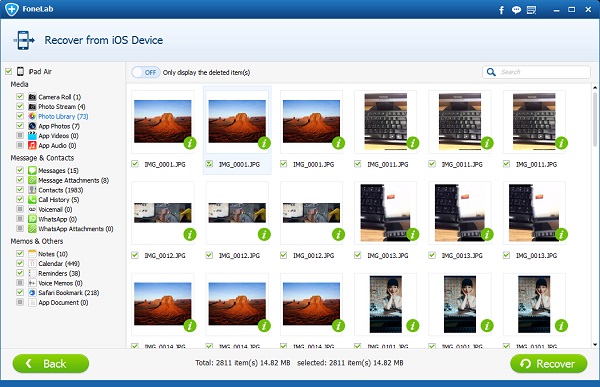 Note: If your device is iPhone 4/3GS, iPad 1 or iPod touch 4, you will need to download a plug-in before entering the scanning mode.
Step 3: Preview your photos and back them up
In case you want to be selective in your recovery, preview the deleted photos with their thumbnails in the preview pane.Select the pictures you want to recover and click on 'Recovery'
Select an easily accessible folder on your computer to save the recovered photos. Now, you've got to be patience until the recovery process is over. You can now access your recovered photos and later transfer it to your iPad.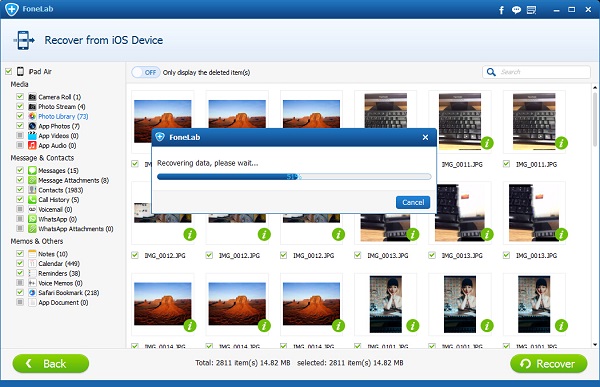 Note: Checking "Only display the deleted item(s)" "On" activate the recovery mode of the application but checking it "Off" activate the backup mode. So make sure it is "Off".