How to Backup iPhone Text Messages to PC/Mac
Having a backup is not that bad even when you are expecting that all your files or any data will be lost or have the chance to be lost in the future. That is why having a backup is a perfect way to plan since the future is uncertain. It would be very frustrating when you have all the data but by the time you lost it, you didn't have a backup file, so you end up sorry for yourself and you feel like it is the end of your world, probably. But one person would really make sure that having a backup would really save time and effort.
In locating the iPhone SMS Backup file
The steps are easy as other procedures but you just have to follow them attentively and carefully, though. But before trying to backup your SMS or text messages from your iPhone, you must have the following and these are:
- iPhone Data Recovery installed
- An iPhone, iPad, or iPod
- A Mac or PC
- USB cable to connect your iPhone, iPad, or iPod
After acquiring these things, you can now proceed to the next steps, but before everything, you need to install and already have finished installing the iPhone Data Recovery. And after downloading it, save it then run it whenever you like.
The steps to do it
Now go back, iPhone Data Recovery can load, read, and export text messages from your iPhone.
1. Run iPhone Data Recovery. Connect your iPhone/iPad/iPod to computer.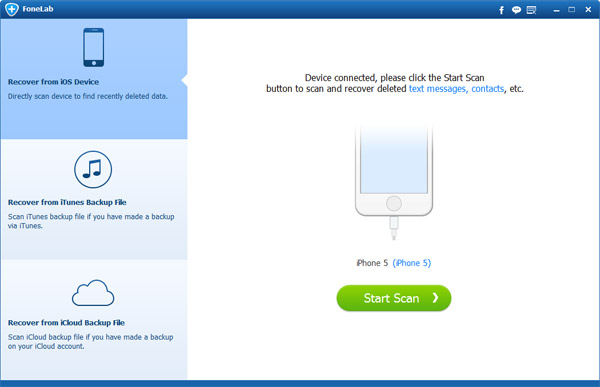 2. On the main interface, you can see the program is scanning your device. After scanning, all the data will be listed under different categories.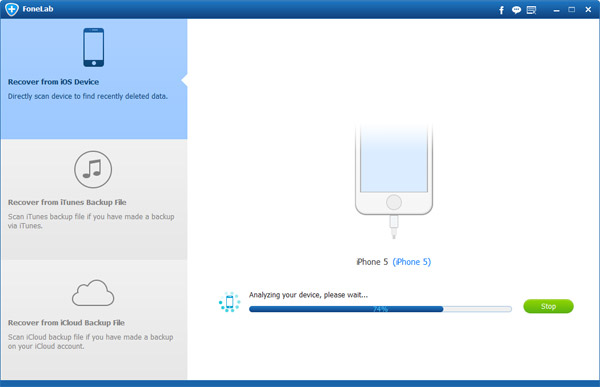 3. Click Messages on the left. All the messages, including deleted and existing ones, will be shown on the main interface. Red ones means are deleted ones. If you want to recover deleted messages, you can check all messages and click Recover. But if you just want to backup existing text messages on iPhone, you need to uncheck red ones. Then click Recover.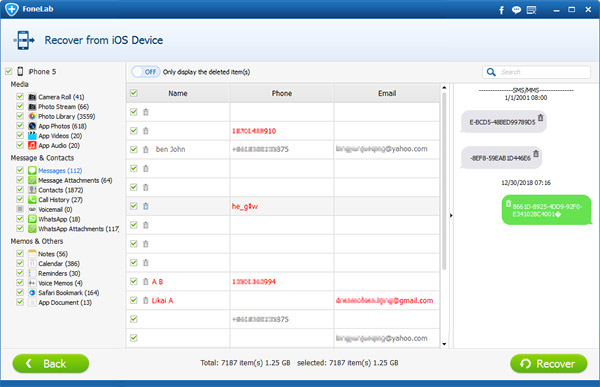 Now you have backed up iPhone text messages to PC/Mac without iTunes. And the back-up iPhone text messages can be opened directly on PC/Mac.
Accessing Text Messages from an iTunes Backup of an iPhone
If you have synced and backed up iPhone text messages with iTunes, the file or folder that the backup messages are inside will also be together with the semi-encrypted databases, making it harder for you to find it. You can also use this iPhone Data Recovery to view backup files in iTunes:
1. Run the program. Choose Recover from iTunes Backup Files.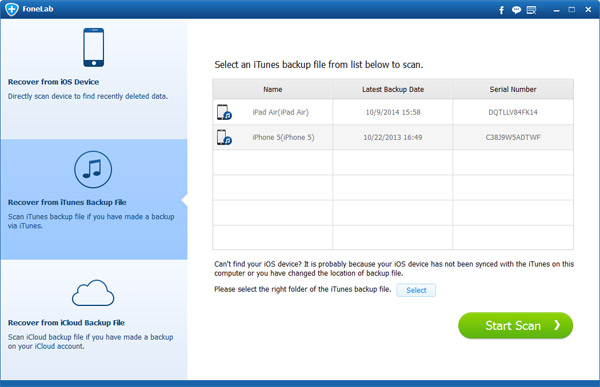 2. Then all the iTunes backup files on your computer will be detected. Choose the one with right model. Then click Scan.
3. After scanning, all the backup data in the file will be listed. You can find text message conversations by clicking Messages on left.