How to Recover Deleted WhatsApp Messages on iPhone
WhatsApp is an instant messenger; it is an application that works on BlackBerry, Android phones, Symbian, Apple iOS and Windows Phones. It widely used all over the world. Using WhatsApp messenger you will be able to send and receive messages without paying for the SMS, because WhatsApp Messenger is a world wide mobile messaging app.
People that use iphone now prefer WhatsApp application to chat and communicate with friends, families, and co-worker. WhatsApp applications have many advantages such as; users can communicate through voice, text and images over cellular or Wi-Fi networks. In as much as WhatsApp app has advantages, it also has disadvantages. For instance, user may mistakenly click on the wrong option and all the WhatsApp messages and chat history is deleted.
You may be wondering how I can recover deleted iphone WhatsApp messages. Don't panic because this article will show you different ways you can recover iphone WhatsApp chat history.
Method 1: Install Another WhatsApp to Recover iPhone WhatsApp Chats History
It is very simple to recover WhatsApp messages that are less than seven days old. The first thing is to uninstall your WhatsApp and then install it again. WhatsApp will create a backup of your data immediately and store it on your phone. When you re-install the WhatsApp, you will automatically restore your message history. What you need to do is simply tab "Restore" and messages less than seven days old is restored.
Method 2: Recover WhatsApp Messages from Backup
May be you have backup your iPhone using iCloud or iTunes previously, you may be able to recover lost WhatsApp contact from iCloud.
1. Download and install iPhone Whatsapp Recovery.
2. If it's in iTunes backup files, click Recover from iTunes Backup Files. Choose the backup file on your PC and scan.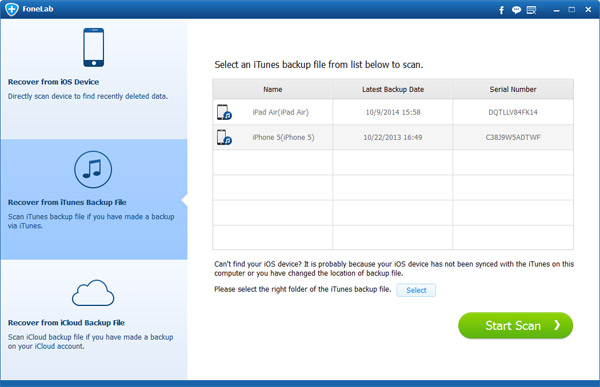 If it's backed up in iCloud, choose Recover from iCloud Backup Files. Sign in to your iCloud account. Then choose the backup file in the account and download. After that, scan the downloaded file.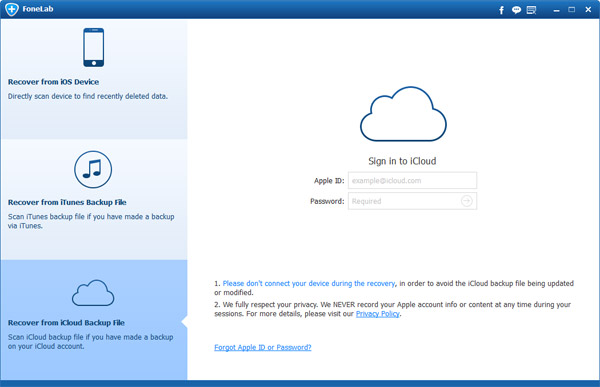 3. After scan, click Whatsapp on the left. Then find the deleted messages and click Recover.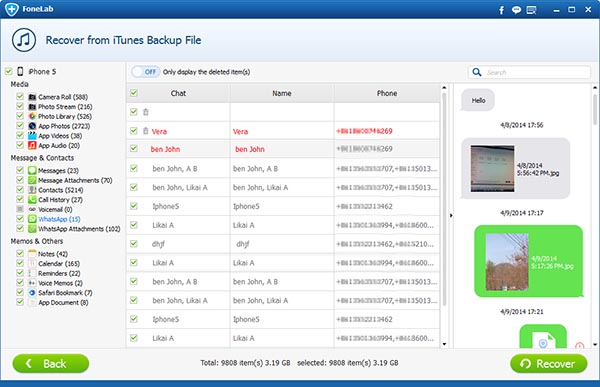 Soon the deleted Whatsapp chat history in your iPhone will be recovered.
Method 3: Recover Deleted iPhone WhatsApp Messages without backup
If you don't have backup or the backup file has been updated, iPhone WhatsApp Recovery is another option you can use to recover lost WhatsApp messages from iPhone directly.
The following ways is how to recover deleted iPhone WhatsApp messages directly using iPhone WhatsApp Recovery.
1. Run iPhone WhatsApp Recovery on your computer and connect your iPhone with PC via USB cable.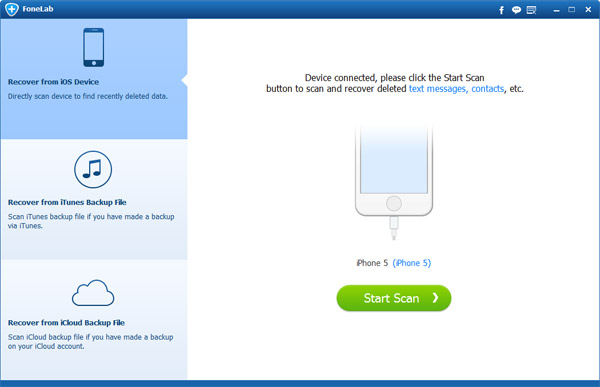 2. Click "Start Scan". The program will scan the device for lost WhatsApp messages.
3. After the scan, click "WhatsApp" to preview the lost messages before recovery.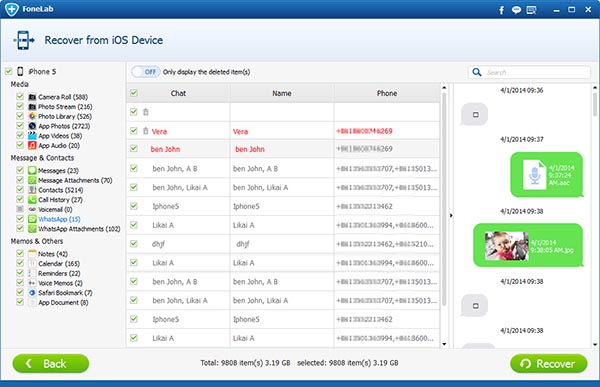 4. Mark the messages you want and click "Recover" to save them on your computer.
NOTICE: Make sure you don't use your iPhone after you have lost your WhatsApp messages. A new data will be generated if there is any operation on it, which may overwrite the deleted WhatsApp messages and it will be difficult to recover.